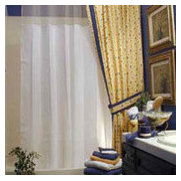 | | |
| --- | --- |
| | TRAX Ceiling Shower Rods |
Houzz アワード (3)
Houzz バッジ (3)
TRAX sells home decorating products to bathroom remodelers. We design and manufacture our products to customer specifications. TRAX products are shower rods designed to mount directly to the ceiling and work with all types of bathtub and shower layouts.
対応エリア:
Loomis, United States & Canada
レビューを書く
TRAX Ceiling Shower Rodsへのレビュー (10)

Owners are great to work with. We integrated our shower curtain rod into the drywall for a sleek look. Turned out fantastic! We are getting ready to place another order for a different project. Thank you!
We remodeled our small guest bath using this wonderful ceiling mount curtain rod. It makes your bathroom look so much cleaner without the rod going across the middle. And the hooks slide so smoothly. I highly recommend using the brushed aluminum instead of the white Trax no matter what color your bathroom. Ours is white walls and tile, and the aluminum looks very modern. The woman who helped me over the phone was extremely helpful with all my questions and the product arrived I think in 2 day -- yikes!!!
関係
I am a consumer who worked with this company.
Steve was very helpful and explained how to inset the rod into the ceiling before installing drywall. The rod is sturdy and has a clean profile. Great service and a great product.
Great high quality products and excellent customer service. I highly recommend purchasing from them! If you are looking for high quality curtain liner this is the shop to buy.
We purchased Trax L shaped shower curtain track for our bathroom remodel, from ceilingshowercurtains.com. I can't say enough good about this company and their product. I got an order confirmation email, and within seconds, got a UPS tracking number. When the track showed up, I installed it immediately, which was super easy, as long as you own a drill, phillips screwdriver, and a tape measure. When completed, the track rollers worked perfectly, and rolled smoothly and effortlessly over the connection point of our two piece rod. I would highly recommend this product and company to my friends and family.
I have just finished a remodel of a home from 1914 and needed an L-shaped shower curtain rod. I really wanted a functional shower curtain rod and this companies ceiling mounted system fit the bill. They shipped fast and the system is all it was said to be and more. Everyone who sees the house asks about the curtain system! Could not be happier!
I was looking for an L-shaped shower curtain rod to replace a glass shower door in the corner of my master bath. The products I could find on Amazon and Google looked ugly and I had concerns about finding shower curtains that would work with them. I was about to give up until I found TRAX Ceiling Shower Rods. The tracking system seemed like a great idea and they sell custom length curtains which was perfect given my large (12ft) ceilings. I called up and spoke to their (super) friendly support and within a day or two I had the shower tracking and the shower curtain. The installation was really easy, and really adds a refined final touch to my master bathroom remodel. I have had the product installed for over 2 years now and it works perfectly and is as good as new. This was the best (and cheapest) bathroom upgrade I've ever done. I'm going to get a straight shower curtain rod from TRAX for my guest bathroom when I remodel it later this year.
I love my new TRAX shower rod! It was a breeze to install, taking less than 20 minutes. Not only does it make the ceiling look super tall, but it also functions well. The curtain seamlessly glides on the rollers. I'm no longer annoyed by the hooks on my old rod getting caught on the extension pole bump and falling off. Fantastic product! I'd recommend this to anyone.

2013年3月26日
最終更新日:

2013年3月30日
関係
I ordered a TRAX shower curtain
I have a small bathroom with 13 foot high ceilings and an oval claw foot bathtub. Not just any shower curtain was going to do in my funky farmhouse bathroom. The TRAX shower curtain was the classy option to just a straight shower curtain rod. With the claw foot bathtub being oval I wanted an oval shape for shower curtain that would be functional as well as look nice. The TRAX shower curtain keeps the water from getting on the floor and it shows off my high ceilings The website was awesome with step by step guide to ordering the perfect fit. Amazing even I couldn't mess it up. I installed the TRAX shower curtain and found the directions simple and easy to follow. I have had my shower curtain up for about 6 months and I love it. Its heavy duty quality craftsman ship, its functional and pretty. The best part is that the shower curtain moves so easily in the track that I can go from bath to shower curtain mode easily. thanks
I absolutely LOVE my Trax shower curtain. I personally have one in my home and it makes our small guest bathroom look so much larger! The height of the curtain draws your eye up and makes the ceilings seem taller than the standard height. I've had so many compliments on the design from friends and family!! As a real estate professional, I've had my investor clients who are flipping homes install the Trax shower curtain when listing and staging their homes for sale. The shower curtain is unlike anything on the market I've seen and adds that something extra to my listings - and makes the bathrooms look fabulous! I'd highly recommend the Trax shower curtain - you'll love it too!
コメント:THE ROLLING carriers
Yes, you can buy them directly from the manufacture. The 2 1/2" rollers are not found on the TRAX website. You will need to place your order by phone for the standard rollers. If you are looki...
コメント:New Bathroom
The track comes with 12 roller/hooks. There is usually one extra in the package hardware. The hook hangs 2.5" below the ceiling. They are not customizable.
コメント:How much is it
The reason that the "Add to Cart" does not show the price is that there is currently no inventory available to fill an order. The product will be available from Houzz again after the first ...
人気の寝具店・バスグッズ専門店を見つけましょう
DIY もいいけれど、美しく完璧な仕上がりを求めるなら、その道のプロに依頼してみませんか? 世界中250万人以上の住まいの専門家が集まる Houzz では、あなたにぴったりなCA El Dorado Hillsの寝具店・バスグッズ専門店を簡単に探せます。
El Dorado Hillsの住まいの専門家のレビューをチェック
どの寝具店・バスグッズ専門店に仕事を依頼しようか迷ったとき、参考になるのがレビューです。特にEl Dorado Hillsでの事例に関するレビューを読めば、 寝具店・バスグッズ専門店を身近に感じられることでしょう。また、質問や気になることは「相談・情報交換をする」ページに投稿して、専門家の意見を聞いてみましょう。
近くの人気寝具店・バスグッズ専門店に相談してみましょう
お気に入りの寝具店・バスグッズ専門店が見つかったら、Houzz で専門家のプロフィールを見てみましょう。その寝具店・バスグッズ専門店の紹介文や事例写真、連絡先を確認したり、メールで相談や見積もりの依頼もできます。また、専門家から集めた見積もりなどの情報は、相談先リストでまとめて管理できます。