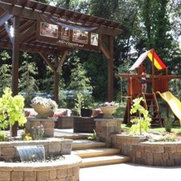 MD Concrete & Landscape 2015 Landscape Winner
| | |
| --- | --- |
| | MD Concrete & Landscape 2015 Landscape Winner |
Houzz アワード (1)
Houzz バッジ (2)
MD Concrete & Landscape is an award winning landscape company. We are focused on providing top quality design-build services. I have been in business over twenty-four years and take pride in doing quality work at an affordable price. I am on every project managing my crews and enjoy working directly with my customers to provide a product that will exceed their expectations. - Mark DeVriend
サービス内容:
Concrete Construction, Concrete Repair, Deck Building, Deck Repair, Fence Installation & Repair, Masonry Construction & Repair, Paver Installation, Sod Installation, Trellis & Pergola Construction, outdoor kitchens and firepits
対応エリア:
Antelope, Carmichael, Citrus Heights, Elverta, Fair Oaks, Folsom, Foothill Farms, Gold River, Granite Bay, Lincoln, Loomis, Mcclellan, North Highlands, Orangevale, Penryn, Pleasant Grove, Rio Linda, Rocklin, Roseville, Sacramento, vacaville
受賞歴:
2015 Landscape Challenge Winner Auburn Home Show
MD Concrete & Landscape 2015 Landscape Winnerのプロジェクト (10)
レビューを書く
MD Concrete & Landscape 2015 Landscape Winnerへのレビュー (5)
We moved into a new home in June 2015 and needed a large amount of concrete work and some fencing done right away. We got bids from 4 different companies and went with Mark DeVriend at MD Concrete. We were happy with his quote and the timeliness of his work. We got a new concrete driveway and RV pad along the side of the house done in a broom finish. It looks great. We wanted a salt finish done on the back patio that measures approximately 40' x 14'. We are VERY unhappy with it. It looks horrible, with the worse parts being right outside our sliding glass door. It's unevenly colored, there are areas with little to no salt, but the worst part are the areas that looked like they dragged something through the wet concrete. When I pointed these things out, Mark told me that salt finishes don't always turn out well. I've seen plenty of nice salt finishes, but if this was the case, as a concrete professional he should have discussed this with us and we may have opted for something else. He said the uneven coloring would even out in time. He didn't have much to say about the other areas, except to say they were within an acceptable range. I'm sure he wouldn't have accepted them in his own yard. He suggested we wait 6 months, and if we were still unhappy he would stain the patio for us. I gave him the benefit of the doubt and starting in early 4/16 tried to reach him several times. He has totally blown us off. We spent a lot of money with this company and I would never recommend them. We will have to have someone else come and put a veneer over the patio at an additional expense now. The photos are just a few of the areas we are unhappy with.




2016年7月21日
最終更新日:

2016年7月21日
We needed a contractor to do a small patio on the side of our house so we had MD Concrete give us a bid. His bid was the best we had received and we had him do the work. He and his crew showed up every day as promised and completed the work above our expectations. We were so pleased with the work that we had Mark give us a bid to replace the driveway, pour a patio and build a wall in the front yard. Again the work was completed even better than we expected and for his bid price. We loved his work so much that we had him do the landscaping in the front yard. Mark designed the yard and the plant selection and we love it. We have had people drive by or come up to our front door and ask us who did the landscaping because it came out so great. We have not hesitated to recommend MD Concrete to everyone who asks.

I recently had a 800 sq ft. stamped concrete backyard patio installed by MD Concrete. I couldn't be happier with the results. Not only did the concrete turn out beautiful and functional, but they showed up the next day to check on their work and make sure that the work site was left clean. Mark gave great advice of the overall look and design of the patio and yard. I would definitely use them again, and would recommend them to my friends and family.
Mark undertook a redo job from a previous inept contractor. This necessitated a complete tear out of 700sq ft of previously newly poured stamped concrete that was cracked beyond belief in a dozen places after only 2 weeks. There was a lack of a proper base in the first job. Mark installed a substantial rock base with rebar. Micro fiber was used in the new concrete pour and now 3 months later, not even a single crack has appeared. That is a major difference. Mark also engineered and built a 45 ft long 6 ft high hollow wood and steel framed doubled sided stucco wall ( also a redo from the inept contractor ). The colored acrylic final coat is very attractive. Again, there is not a single crack in this project. Mark was able to salvage our disaster and both projects are now quite attractive. Thank you Mark. The Hendricks, Granite Bay, CA
I am writing to recommend the services of MD Concrete, specifically Mark DeVriend for your landscaping and design needs. Our experience with Mark has been excellent from start to finish from their precise execution to their incredible designs. Mark put together a design concept that completely transformed our yard into an oasis-like retreat for my family and our guests to enjoy. Working with Mark along with their team was an absolute pleasure. The planning process was a collaborative effort combining our vision with their keen grasp of landscape design and build. Mark treated our property like it his their own. We were able to relax and not worry about the details because he always addressed them before we knew. This is a big complement from me because I am a very hands-on person who likes to be in control. Further, Mark treated us like a part of their family, always looking out for our best interests and insuring that we were 110% happy throughout the entire process. We are actually in the process of adding additional landscaping to our home, and will only work with MD Concrete on our next project and look forward to working with them again. I am happy to recommend Mark DeVriend of Md Concrete to you and I am confidant that you will be just as satisfied with the outcome as we were. Matthew Sabbatini
人気の造園会社・ガーデニング業者を見つけましょう
DIY もいいけれど、美しく完璧な仕上がりを求めるなら、その道のプロに依頼してみませんか? 世界中250万人以上の住まいの専門家が集まる Houzz では、あなたにぴったりなCA Rosevilleの造園会社・ガーデニング業者を簡単に探せます。
Rosevilleの住まいの専門家のレビューをチェック
どの造園会社・ガーデニング業者に仕事を依頼しようか迷ったとき、参考になるのがレビューです。特にRosevilleでの事例に関するレビューを読めば、 造園会社・ガーデニング業者を身近に感じられることでしょう。また、質問や気になることは「相談・情報交換をする」ページに投稿して、専門家の意見を聞いてみましょう。
近くの人気造園会社・ガーデニング業者に相談してみましょう
お気に入りの造園会社・ガーデニング業者が見つかったら、Houzz で専門家のプロフィールを見てみましょう。その造園会社・ガーデニング業者の紹介文や事例写真、連絡先を確認したり、メールで相談や見積もりの依頼もできます。また、専門家から集めた見積もりなどの情報は、相談先リストでまとめて管理できます。