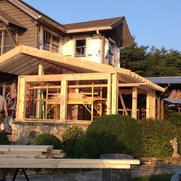 | | |
| --- | --- |
| | A. McVays Construction & Renovations |
https://www.houzz.jp/pro/mcvaytony/ をコピーしました
Houzz アワード (4)
Houzz バッジ (2)
WIndows Installation Door Installation Renovations and new construction Licensed home inspector license builder Licensed plumber
サービス内容:
Deck Repair, General Contracting, Home Inspection, Home Remodeling, Home Restoration, Roof Flashing Installation, Roof Repair, Interior painting, Certified roof inspection
対応エリア:
Alexander, Asheville, Barnardsville, Bent Creek, Biltmore Forest, Candler, Enka, Fairview, Leicester, Swannanoa, Weaverville, Woodfin, Bakersville, Micaville, Penland, Plumtree, Spruce Pine, Hendersonville, Arden, Gatlinburg TN, Little Switzerland, Pigeon Forge TN
レビューを書く
A. McVays Construction & Renovationsへのレビュー (13)
We would definitely use Tony McVay again for a home project. He and his team replaced our swing door to the deck with a sliding patio door, which involved enlarging the external opening, moving wiring, re-trimming and then making it look like the door had always been there. Success! The project occurred on time and on budget and the door and its seal are perfect. He is highly professional and a great communicator. Recommended.
I feel blessed that I was referred to Tony and his son, Devan. I have overseen 7 subs on a job for my real estate work and felt like I did fine. Boy, am I glad that I turned the major renovation of my 100 year old West Asheville home over to A. McVays! They have come up with creative solutions to the inevitable issues that arise with an older home. Devan and Tony have stayed in constant communication whether there were things to discuss or just dropping by to see how things were going. They have gone over and beyond in every aspect and have earned my complete trust and respect. As a realtor, they have now become my go-to referral for construction. They also carry a line of windows that are amazing. I knew I needed double pane windows since I live on a noisy street with old, rattling windows which I still loved. I felt strongly about maintaining the century-old character of the windows but thought that would be impossible. Not so. They had windows custom-made to match what I had. Not only that, but they suggested the triple pane which has virtually silenced the street noise. There were two bonuses: 1) They were able to keep my interior trim so it feels exactly like it was, and 2) McVay's had custom metal trim molded for the exterior that has completely upgraded my curb appeal which has skyrocketed. Thanks Tony and Devan. I don't know what I would have done without you! Peggy Crowe
The father is very positive as well as the son he now works with. A joy to be around and hard workers! Tony has been in business 35 years and is a licensed general contractor and home inspector and is able to really get specific with important details. Our bathroom remodel looks wonderful. I have used this family team several times over the last ten years and regret dragging my feet on writing a review. If you're happy you don't generally write reviews. They referred to me by a neighbor who has used them many times and I had seen how great their projects turned out. Very professional and efficient!
We feel that we fell for their "family" line, when we hired this company for our home remodeling project. Now we, a family with two young children, have no drywall on our walls, we have temporary walls up in the middle of our living space, nails sticking out everywhere, and holes in the floor. The contract was signed Tuesday March 28th. The removal of our walls and erection of the temporary walls started Wednesday May 3rd. The company quit the job May 4th. Prior to this, no blue print was created, which resulted in a wall being left out of the job and estimate. Initially we were given a final bill including a change order with around a 58% markup(contract specifies 15% for change orders), an invoice added on multiple times, and a site management fee of $85 per hour(per the bureau of labor statistics the mean hourly wage for construction managers is $47.84). Luckily at this point we were checking over everything, so we caught it. The site manager was not on site when work commenced on the plumbing, electrical(though did show up after work was completed to meet the carpenter for the first and only time), or when the carpenter actually started work. We have offered to settle by paying the higher end national average wage for the site manager, who also happens to be the contractors son, just to get our project back on track and our home back to normal, but have been denied and called stupid. We are now being threatened with a lien on our home. We would definitely not recommend this company.

A. McVays Construction & Renovationsからのコメント:
We really don't want to respond to this ridiculous review , there is not a single fact correct , I guess we will address it nonetheless

We were hired by Mrs Riggs because her previous contractor quit ( it is quite obvious to us why now ) .
She told us she wanted to remove several bearing walls and install new kitchen cabinets that were due to arrive soon. She Also wanted us open up living and dining room walls. She had no professional design ,blueprints or plans to provide us which was quite a " head scratcher " for us since she already ordered all her kitchen cabinets .

We began by Informing Mrs Riggs -

# 1 We can never approve removing any bearing walls until a structural engineer provides approval and plan.

#2 we can not put a cost on this project , there are way too many unknowns , for example what the engineer will charge or recommend ,
We have no idea what or how much electrical or plumbing will require moving or the cost to do so or what kind or the cost of the structural components the engineer will require

#3 we informed Mrs Riggs that this will have to be a "cost plus contract" but we have done our best to ESTIMATE THE COST , we did not include many items in this estimate , all is in writing in contract and agreed to by all parties .
(Mrs Riggs evidently does not fully under the the " Plus " part of the contract and expected us to run , manage , supervise this complex project for free or next to nothing "

#4 upon receiving the signed contract
we proceeded to engage the structural engineer ( also got permits started , lined up plumbers and electricians ) , on such short notice this was no Easy task , these guys are booked up for weeks in advance but we pulled in some favors. The structural engineer required us to open up , remove areas of drywall on walls and ceiling so he could fully understand the structure and how it was built .
WE WERE NEVER SURE HOW MANY OR HOW MUCH OF THE BEARING WALLS HE WOULD APPROVE TO BE REMOVED . We opened up all the areas that were necessary for the evaluation by the engineer .

# 4 when We reached a point where our cost had added up to a point that exceeded the deposit amount , we conveyed this to Mrs Riggs and told her we required another payment , she demanded a complete accounting immediately , we did this exactly as contract dictated .
Mrs Riggs then accused us of " shady " practices because we added on the " plus " percentages to our cost and she felt she could and would further dictate what we could charge for project manager , licensed GC over sight and management of her project . We then decided it was best quit her project.
She refused to pay , our attorney now has this and he has confirmed that it is defamatory, his fees are now added to balance due and he is adding defamation to the case file.

Thank you
Anthony McVay
Owner / manager since 1995

Tony has been a great person to work with. He communicates frequently and with clarity. His crew has been very respectful and hard working. We will be using A. McVays Construction again on another project and highly recommend them for your needs.
A. McVays Construction and Renovations restored the exterior of our 3-story home to a brand-new look. The work included siding repair, expert caulking, a superb paint job and the restoration of our large stone-mass chimney system above the roof. They were the first company to effectively seal, flash and stucco this 16' by 6' structure (including the original builder and another contractor). They also renovated our 42' by 14' deck, installed new exterior doors and storm doors, and built an original deck/porch for our main entrance. After three years in a climate with rough winters, the quality of their work is apparent. We plan to contract with them again when we are ready to do some interior renovation.
I am very pleased with recent window replacement project by A.McVays Construction.They replaced 6 windows and a complete bay window unit. The windows look great and are fitted properly into older, crooked window frames. Anthony came when he said he would, gave a timely estimate. They were ON TIME each day, very knowledgeable and capable of doing the job, with great, helpful attitude. Very professional in every way. I am so glad to have found them and will recommend them to friends. They are also going paint the exterior and replace rotted boards and wood for me.
Tony McVay recently helped me with a variety of projects around my house from staining the deck to repairing the soffits and exterior painting. He was prompt, neat and communicated well in terms of timing and expectations. I would strongly recommend him.
Tony replaced the roof on my house. I asked for a completion by July 4th and he made it. I had one leak around the chimney and he came back out to look and repair it without hassle.

2014年12月9日
最終更新日:

2014年12月9日
Tony and his crew are in the middle of a remodel project for my wife and I following our move from Florida to South Carolina. Our "new" home is 140 years old with all the "challenges" that a home this old might present. Tony is extremely knowledgable and his crew are all highly-skilled craftsman with attention to detail. By his own admission, Tony might be perceived by some to be "pricey" but both my wife and I feel the confidence and peace of mind we have in Tony's supervision of our project is worth paying a little more. We could definitely find someone local who could do the work cheaper, but they might not be able to deal with the challenges and "surprises" of working on an old home and the project might end up taking longer to complete or be more expensive in the long run. I would recomment Tony and his crew to anyone undertaking a remodel or other project around the house.
Tony McVay has worked for me, almost constantly, for over three years (2010-2013) Little projects, and big projects – including the major remodeling/renovation of three houses, with additions to two of them. His work has been excellent, and his professionalism unmatched. As an absentee owner, communication is of utmost importance to me, and Tony has always kept me informed about progress, etc., and responded immediately to any questions I have had. His work for me has included exterior and interior projects too numerous and varied to list. Tony's knowledge has been invaluable, and his guidance and advice worthy of great respect and totally reliable. I look forward to more projects with Tony.
2013年11月27日
最終更新日:

2013年12月2日
Every job that Tony McVay has done for me has been done extremely well. I first used him to repair a large hole in a wall caused by an accident. That was several years ago and you would never know to this day that part of that wall has been repaired. In 2012 I found water coming in around a window. Tony discovered that water had seeped in under the siding which was rotting in some places, and that flashing was missing or needed replacing in this relatively new addition to our house. Repairs and renovations were done expertly. This year I had Tony roof the entire house including the repair of an area around the chimney that contained rotting wood resulting from a poorly done attachment of the new addition to that area. Through all of this, I have found Tony to be knowledgeable, quality oriented and diligent. His workers, like him, take pride in their work and are thoughtful and courteous. I recommend Tony McVay and his services with confidence. Mona Moody, Little Switzerland NC
2013年10月29日
最終更新日:

2013年12月2日
すべてのレビュー (13件) を見る