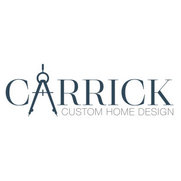 | | |
| --- | --- |
| | JCD Custom Home Design |
https://www.houzz.jp/pro/joecarrickdesign/ をコピーしました
Houzz アワード (14)
Houzz バッジ (5)
平均依頼コスト:
USD 2,000 - USD 60,000
http://www.jcdhomes.com/pricing
At JCD - Custom Home Design (Formerly Joe Carrick Design), we believe a well-designed home features stunning aesthetics and functionality without sacrificing cost efficiency. With a focus on your unique needs, we will design a beautiful home that reflects your family's lifestyle. Our experienced design team will help guide you through this creative process. House plans have the ability to simplify or complicate the building process. Contractors thrive on clean, efficient, and well-detailed plans. Our designers are dedicated to creating construction documents that are accurate and builder friendly. As a result, we are proud to be recommended by builders and subcontractors alike. We look forward to helping you design your dream home.
サービス内容:
3D Rendering, Architectural Design, Architectural Drawings, Basement Design, Building Design, Drafting, Floor Plans, Home Additions, Home Remodeling, House Plans, New Home Construction, Custom Homes
対応エリア:
Benjamin, Elberta, Elk Ridge, Goshen, Lake Shore, Mapleton, Orem, Palmyra, Payson, Provo, Salem, Santaquin, Spanish Fork, Spring Lake, Springville, West Mountain, Woodland Hills
受賞歴:
2016 Gold People's Choice - Floor Plan 2016 Silver People's Choice - Floor Plan 2016 Gold People's Choice 2016 1st Judges Choice 2015 1st Judges Choice 2014 1st Judges Choice 2014 People's Choice - Overall/Floor Plan 2013 People's Choice 2013 Judges Choice - Floor Plan
レビューを書く
JCD Custom Home Designへのレビュー (61)
We started with a previous home design and modified it for our purposes. Bryson had some great recommendations on how to build the right house for the lot size while making sure to include all of the features we wanted. Easy to work with, and they were able to work within a tight schedule to give us a quality design in a fairly short timeline.
We used Bryson and JCD Design for our new home in Heber City. They are professional and courteous and have integrity. We are very happy with the home plans. We highly recommend them to anyone interested in stock plans or custom plans.
2018年11月7日
最終更新日:

2018年11月7日
The team at Joe Carrick Design (JCD) is wonderful to work with and we would highly recommend them to anyone looking to build a home. This was our first time building a home and Joe and the team are professional, patient, and chalk full of great ideas and suggestions. After a several sit down meetings and back and forth with our builder Innovate Construction, JCD captured and improved upon our vision of our dream home. The customized plan exceeded all of our needs and desires and pulled the beautiful mountain views into our living space. JCD is perhaps best known for their great use of space and function and now with the finished product we see first-hand and appreciate that experience. There is not any wasted space in the home. The scale of the home and sizing of windows and architectural features is perfect. We are thrilled with the outcome and look forward to creating wonderful memories in this home. Thanks JCD!
JCD is one of my favorite designers! The plans they create are so incredibly builder friendly and so cost effective to build. I would recommend them to anyone building a home. Not only are they great plans but they are great people to work with, they are promp and take pride in every one of there plans. I personally have built at least 20 of there plans in the last 20 years and have never had an issue with the plans or the draftsman. Thumbs up all the way around!!!
We had a great experience with JCD we love our house plan and they were very accommodating to make a few changes to our design great customer service all along the way




2018年10月13日
最終更新日:

2018年10月13日
I had the best experience working with JCD. I love working with creative experts who can collaborate and create something beautiful. The job was done in a timely fashion, even with all of my crazy ideas and changes! Thanks for a great design.
JCD Custom Home we're our design team for our new home. They were very good to work with and we absolutely love our house! During our build our supporting beam for our roof/deck was installed wrong. I called Joe and James to see if they could come up with a solution on how to fix this mistake (made by the beam guys). They were so helpful and figured out how to raise the beam. And they did it quickly. We love our finish product. I highly recommend them.
Was looking on Houzz for ideas of homes with indoor Sport Courts. That's when I found JCD Design and James. Looked at almost every home they have designed, and their designs were very functional and well thought out. Contacted them over the phone since I live in Ohio and hired James to do our custom design. Great communication and a simple process. My builder is extremely happy so far with the plans. Will post results when completed. Thank Todd

We hired JCD to design the house of our dreams. They were very easy to work with and were able to turn our description of what would be a dream house, into a design that ultimately became a reality. Throughout the process they continued to give us ideas on how to make the floorplan as functional and inviting as possible. In addition, our contractor commented that the plans provided by JCD were very easy to work with, helping the project move smoothly. I would use them again.


2017年8月23日
最終更新日:

2017年8月23日
We decided to use JCD to design a home that we are building in Texas. We were able to tour several of their plans when visiting Utah last summer for the Parade of Homes tour and loved their floor plans which included several elements that are especially unique to Texas. We were able to work with James and Joe in the process and found them to have just the right balance of listening and advising to create a plan that we are excited to break ground on soon.
We have recommended Joe Carrick to several people after we used them. They were very professional and easy to work with. He got my plans exactly how I wanted them and was able to save us thousands of dollars with his knowledge. I would use them again in a heart beat.
2017年1月28日
最終更新日:

2017年1月28日
I have walked through several homeshows designed by JCD and I wanted them to design my dream home!! They were wonderful! Easy to work with. Joe listened carefully to what I wanted and was very patient when I completely changed the plans:). My rooflines and elevations are great and they worked hard to fit what I wanted on a tricky corner lot. Thanks JCD, I love my new home!!
すべてのレビュー (61件) を見る