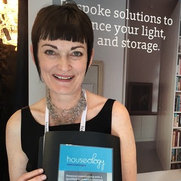 houseology
Call for Online House Consultations!
| | |
| --- | --- |
| | houseology |
Houzz アワード (8)
Houzz バッジ (3)
連絡先:
Eva Byrne
Ballsbridge
Dublin
Co. Dublin
アイルランド
平均依頼コスト:
EUR 399 - EUR 499
My core service is a 2 hour house consultation in your home. This costs €399 in the Dublin area (€499 including for 2.5 hours where an extension is planned). I also offer an Online Consultations and a drawing review service. This costs €399-€499, depending on the scale of the proposed work.
資格・免許:
Graduate of DIT Bolton Street, Dipl. Arch., B.Arch.Sc. Fellow of the Royal Institute of the Architects of Ireland. Membership number RIAI 92087.
https://www.houzz.jp/pro/houseology-ireland をコピーしました
人気の建築家を見つけましょう
DIY もいいけれど、美しく完璧な仕上がりを求めるなら、その道のプロに依頼してみませんか? 世界中250万人以上の住まいの専門家が集まる Houzz では、あなたにぴったりなCo. Dublin Dublinの建築家を簡単に探せます。
Dublinの住まいの専門家のレビューをチェック
どの建築家に仕事を依頼しようか迷ったとき、参考になるのがレビューです。特にDublinでの事例に関するレビューを読めば、 建築家を身近に感じられることでしょう。また、質問や気になることは「相談・情報交換をする」ページに投稿して、専門家の意見を聞いてみましょう。
近くの人気建築家に相談してみましょう
お気に入りの建築家が見つかったら、Houzz で専門家のプロフィールを見てみましょう。その建築家の紹介文や事例写真、連絡先を確認したり、メールで相談や見積もりの依頼もできます。また、専門家から集めた見積もりなどの情報は、相談先リストでまとめて管理できます。