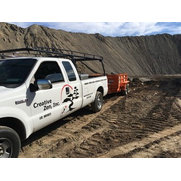 Creative Zen, Inc. Landscape Designer & Contractor
| | |
| --- | --- |
| | Creative Zen, Inc. Landscape Designer & Contractor |
Houzz アワード (3)
Houzz バッジ (2)
We are a complete landscape designer and builder. Contractor's License # 1001023. Creative Zen is the one stop place to get your landscaping project done. We utilize 3D design software to help our client see the possible outcome before the construction starts. We build wood decks & pergolas, patios, concrete paths & driveways, paving stones, retaining wall, landscape drainage, drought resistant plants, zen gardens, koi ponds and many other outdoor living spaces. Please see our project profiles and reviews.
サービス内容:
Artificial Grass Installation, Brick Masonry, Concrete Construction, Concrete Repair, Custom Fire Pits, Custom Water Features, Deck Building, Deck Repair, Demolition, Drip Irrigation Installation, Drought Tolerant Landscaping, Excavating, Fence Repair, Garden Design, Gate Installation, Gate Repair, Gazebo Design & Construction, Hardscaping, Irrigation Repair, Irrigation System Installation, Land Clearing, Land Leveling & Grading, Landscape Lighting Installation, Landscape Maintenance, Mulching, Outdoor Fireplace Construction, Outdoor Kitchen Construction, Outdoor Lighting Installation, Patio Construction, Paver Installation, Pergola Construction, Planting, Retaining Wall Construction, Shed Design & Construction, Site Preparation, Sod Installation, Sprinkler System Installation, Stamped Concrete, Stump Grinding, Stump Removal, Tree Planting, Tree Pruning, Tree Removal, Trellis Constructio
対応エリア:
Alhambra, Altadena, Arcadia, Baldwin Park, Bell Gardens, Bradbury, Duarte, East Pasadena, El Monte, Glendale, Hacienda Heights, Industry, La Canada Flintridge, La Puente, Monrovia, Montebello, Monterey Park, North El Monte, Pasadena, Rosemead, San Gabriel, San Marino, Sierra Madre, South Pasadena, Temple City, City Of Industry
レビューを書く
Creative Zen, Inc. Landscape Designer & Contractorへのレビュー (8)
プロジェクトの費用
500万円以上 1,000万円未満
We needed some work to be done in our backyard with the goal of increasing yard space and extending the deck to get more utility from it. We hired Vince from Creative Zen to do our project and we could not be happier with the result. Vince came by to look at the space and he was able to render up a plan with his computer software. This is a nice touch compared to other companies as we could get an accurate picture of the results. After that he provided us a quote. Now Creative Zen's bid for the project did not come at the lowest, but Vince's demeanor and professionalism ultimately made the decision for us. Unfortunately our project was interrupted by bad weather, so it was not completed at the estimated time. However, on the clear days, Vince and his crew showed up everyday on time and never left early, ensuring that the project was completed as fast as possible. As with anything in life, the project did have some issues afterwards and Vince was able to come out and assess the issue expeditiously. The problems were corrected in a timely fashion to good effect and without additional charge. With Creative Zen, you get a professional who takes pride in his work and is willing to work to make the customer happy. We are very happy with our choice.

プロジェクトの費用
500万円以上 1,000万円未満
Vince and crew are very professional. They are always showed up ON TIME and finished the work right on the exact time they promised. My backyard is so beautiful. Vince's knowledge about plants helps us a lot in designing the space and he is very detailed oriented. I am highly satisfied of his work and recommend them to my families and friend's project. Thank you Creative Zen for an amazing work!

I hired Mr. Vince Zamara of Creative Zen to install a Profit RDF drum filter , together with carbon filter, soft water filtration and reverse osmosis for my over 20 thousand gallon koi pond which is about 4 hours drive from the Company at the end of January , 2016. It is a very positive experience . It took him about a week to fininsh the installation. Within a month , I can see a major difference with my koi quality and water quality . The pond water is now crystal clear even with feeding, which I cannot achieve with my old Japanese matt , Bakki Shower filtration system. He even came back about 3 weeks later to put in knife valve for me free so that I can clean the leaf trap basket without back flow of water from the RDF. With regards to Koi pond construction and water quality of koi Pond , Vince is extremely knowlegeable and helpful. He constantly offer you good advice and I am extremely pleased with his excellent work . I strongly recommend him to do your next pond project without reservation.

Patient, responsible, proffesional. Creative Zen Not only helped me build a beautiful zen garden, but also helped me solve a bunch of problems left by my previous contractor that were uncovered during the process. They were transparent with all the costs, and I would highly recommend them for your landscaping needs.
As an architectural designer, I had the pleasure to work with Creative Zen on a 200 S.F new landscape design and construction at the rear of the house. We collaborated during the programming and design phase as well as during the construction. We coordinated on the building's site plan with Creative Zen focusing on the landscape design and developing several horticultural and water feature strategies given the site's physical and programming constraints and the project's budget. We also collaborated in developing a landscape-building integration to ensure that the transitional spaces between interior and exterior are efficient During our collaboration, I was impressed by their professionalism and their level of craftsmanship. With these, the yard now is a beautiful landscape element of the house. Creative Zen brought the project to live with landscape design elements that are relevant and are maintained as a whole. The spaces, the Koi's pond, and the materials work together nicely. The plants are thoughtfully chosen. I was also especially impressed by their penchant and abilities for maintaining the project's conceptual clarity. Experiencing the yard, I was delighted by how the spaces are delightful as well as efficient and how the yard is capable of accommodating quite & tranquil moments as well as festive activities.
I used this Creativezen-inc services to remodeling my backyard. They know what they are doing and finish the project on time. My kids love the new backyard now and they play outside all the time. Their price is reasonable so I will definitely refer Creativezen-inc.com to my friends.

プロジェクトの費用
500万円以上 1,000万円未満
Excellent workmanship, very professional and finished on time and within budget. Highly recommended and will definitely use for future project.
Creativezen-inc know how to design and finish the project on time. I use their services to build my own koi pond at my backyard. Definitely will refer to all my friends for new project.
人気の造園会社・ガーデニング業者を見つけましょう
DIY もいいけれど、美しく完璧な仕上がりを求めるなら、その道のプロに依頼してみませんか? 世界中250万人以上の住まいの専門家が集まる Houzz では、あなたにぴったりなCA Alhambraの造園会社・ガーデニング業者を簡単に探せます。
Alhambraの住まいの専門家のレビューをチェック
どの造園会社・ガーデニング業者に仕事を依頼しようか迷ったとき、参考になるのがレビューです。特にAlhambraでの事例に関するレビューを読めば、 造園会社・ガーデニング業者を身近に感じられることでしょう。また、質問や気になることは「相談・情報交換をする」ページに投稿して、専門家の意見を聞いてみましょう。
近くの人気造園会社・ガーデニング業者に相談してみましょう
お気に入りの造園会社・ガーデニング業者が見つかったら、Houzz で専門家のプロフィールを見てみましょう。その造園会社・ガーデニング業者の紹介文や事例写真、連絡先を確認したり、メールで相談や見積もりの依頼もできます。また、専門家から集めた見積もりなどの情報は、相談先リストでまとめて管理できます。